Samuel Leroy Jackson (born December 21, 1948) is an American actor and producer. One of the most widely recognized actors of his generation, the films in which he has appeared have collectively grossed over $27 billion worldwide, making him the second highest-grossing actor of all time. The Academy of Motion Picture Arts and Sciences gave him an Academy Honorary Award in 2022 as "A cultural icon whose dynamic work has resonated across genres and generations and audiences worldwide".
Jackson started his career on stage making his professional theatre debut in Mother Courage and her Children in 1980 at The Public Theatre. From 1981 to 1983 he originated the role of Private Louis Henderson in A Soldier's Play Off-Broadway. He also originated the role of Boy Willie in August Wilson's The Piano Lesson in 1987 at the Yale Repertory Theatre. He returned to the play in the 2022 Broadway revival playing Doaker Charles. Jackson early film roles include Coming to America (1988), Goodfellas (1990), Patriot Games (1992), Juice (1992), True Romance (1993), and Jurassic Park (1993), Menace II Society (1993), and Fresh (1994). His collaborations with Spike Lee led to greater prominence with films such as School Daze (1988), Do the Right Thing (1989), Mo' Better Blues (1990), Jungle Fever (1991), Oldboy (2013), and Chi-Raq (2015).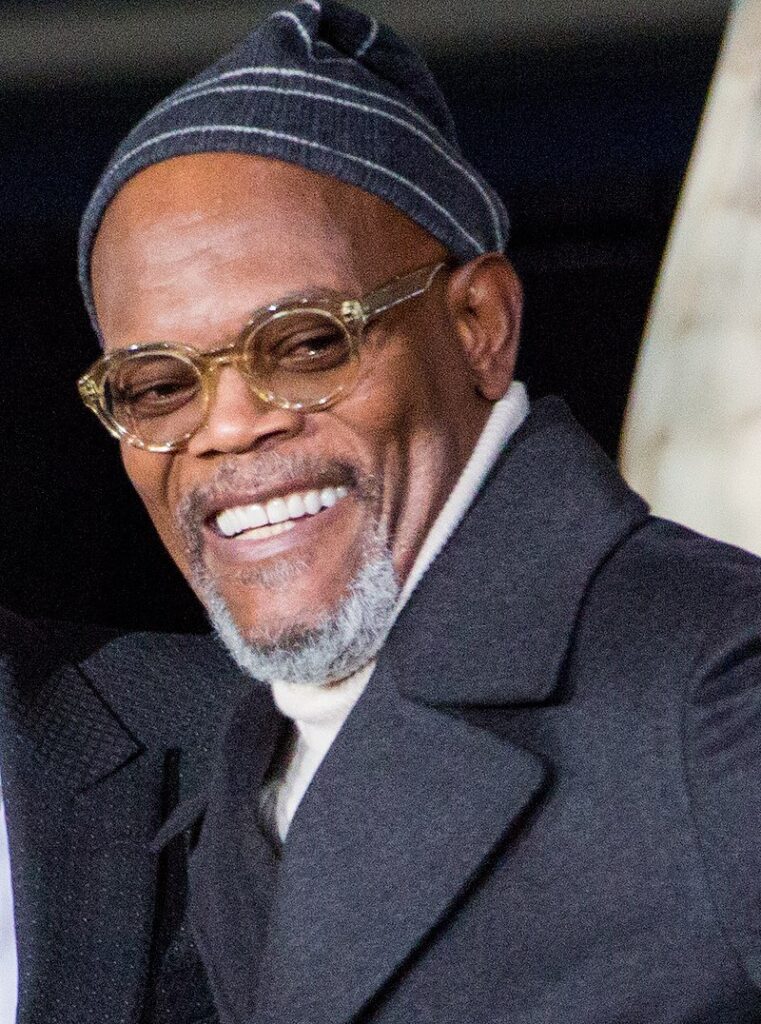 Jackson's breakout role was in Quentin Tarantino's Pulp Fiction (1994) which earned him a BAFTA Award win and a nomination for the Academy Award for Best Supporting Actor. He further collaborated with Tarantino, acting in Jackie Brown (1997), Django Unchained (2012), and The Hateful Eight (2015). He's known for having appeared in a number of big-budget films, including Die Hard with a Vengeance (1995), A Time to Kill (1996), The Long Kiss Goodnight (1996), The Negotiator (1997), Deep Blue Sea (1999), Unbreakable (2000), Shaft (2000) and its reboot (2019), XXX (2002), S.W.A.T. (2003), Coach Carter (2005), Snakes on a Plane (2006), Kingsman: The Secret Service (2014), Kong: Skull Island (2017), and Glass (2019).
He also gained widespread recognition as the Jedi Mace Windu in the Star Wars prequel trilogy (1999–2005), later voicing the role in the animated film Star Wars: The Clone Wars (2008) and the video game Lego Star Wars: The Clone Wars (2011). With his permission, his likeness was used for the Ultimate version of the Marvel Comics character Nick Fury; he subsequently played Fury in 11 Marvel Cinematic Universe films, beginning with a cameo appearance in Iron Man (2008), as well as guest-starring in the television series Agents of S.H.I.E.L.D. He will reprise this role in the upcoming Disney+ series Secret Invasion, which is set to premiere in early 2023.[7][8] Jackson has provided his voice for several animated films, documentaries, television series, and video games, including Lucius Best / Frozone in the Pixar films The Incredibles (2004) and Incredibles 2 (2018).
---
Samuel L. Jackson Height Weight Age And Body Statistics Biography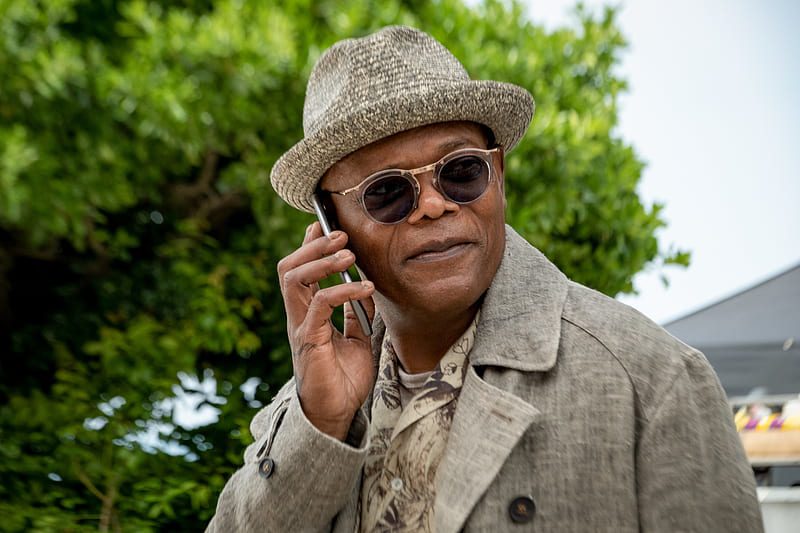 Samuel L Jackson Biodata and Biography
Name
Samuel Leroy Jackson
Nick-name
Sam, King of Cool, Mr Cool
Sex
Male
Date Of Birth
21 December 1948
Age
74 Years (as in 2023)
Profession / Occupation
Actor, Producer (American, English)
Mother Tongue
English
Religion
Christian
Nation
American – Gabon
Zodiac Sign
Sagittarius
Height / Weight
6′ 2½" / 94kg
First Movie
Ragtime (1981, English)
First Debut
Actor: Do the Right Thing (1989, English)Theatre: Mother Courage and Her Children (1980, English)
Producer: Eve's Bayou (1997, English)
TV Actor: Movin' On (1976, English)
Money Factor
Net Worth: $220 million
–
Samuel L Jackson Family and Relatives
Father
Roy Henry Jackson
Mother
Elizabeth Harriett
Brothers
Not Known
Sisters
Not Known
Marital Status
Married
Wife
LaTanya Richardson Jackson (m. 1980)
Daughters
Zoe Jackson (born 1982)
Sons
None
Girlfriends/ Affairs
Not Known
Samuel L Jackson Height, Weight and Body Measurements
Height in Centimetres
189 cm
Height in Meters
1.89 m
Height in Feet Inches
6′ 2½"
Weight
94kg
Body Measurement
44-33-17
Chest Size
44 inches
Waist Size
33 inches
Biceps Size
17 inches
Eye Colour
Dark Brown
Hair Colour
Bald
Samuel L Jackson Favorites
Favorite Colour
Blue and White
Favorite Actor
Not Known
Favorite Actress
Not Known
Favorite Food
Not Known
Hobbies
Not Known
Favorite Director
Not Known
Favorite Destination
Not Known
Favorite Car Collections
Not Known
Sexual Orientation
Straight
Samuel L Jackson Education School and Colleges
Education Qualification
Graduated
School
Riverside High School
College / University
Morehouse College
Others
Not Known
Samuel L Jackson Residence and Contact Address
Birth Place
Washington, D.C., USA
Home Town
Washington, D.C., USA
Present Residence
Washington, D.C., USA
House Address
Washington, D.C., USA
Phone No / Mobile No
Not Known
Email ID
Not Known
Website
Not Known
Samuel L Jackson Awards, Honours, Achievements
National Film Award
Not Known
Filmfare Awards
Not Known
IIFA Awards
Not Known
Screen Awards
Not Known
Samuel L Jackson Social Media
Twitter
SamuelLJackson
Facebook
samuelljackson
Instagram
samuelljackson/
Wikipedia
Samuel_L._Jackson
---
Early life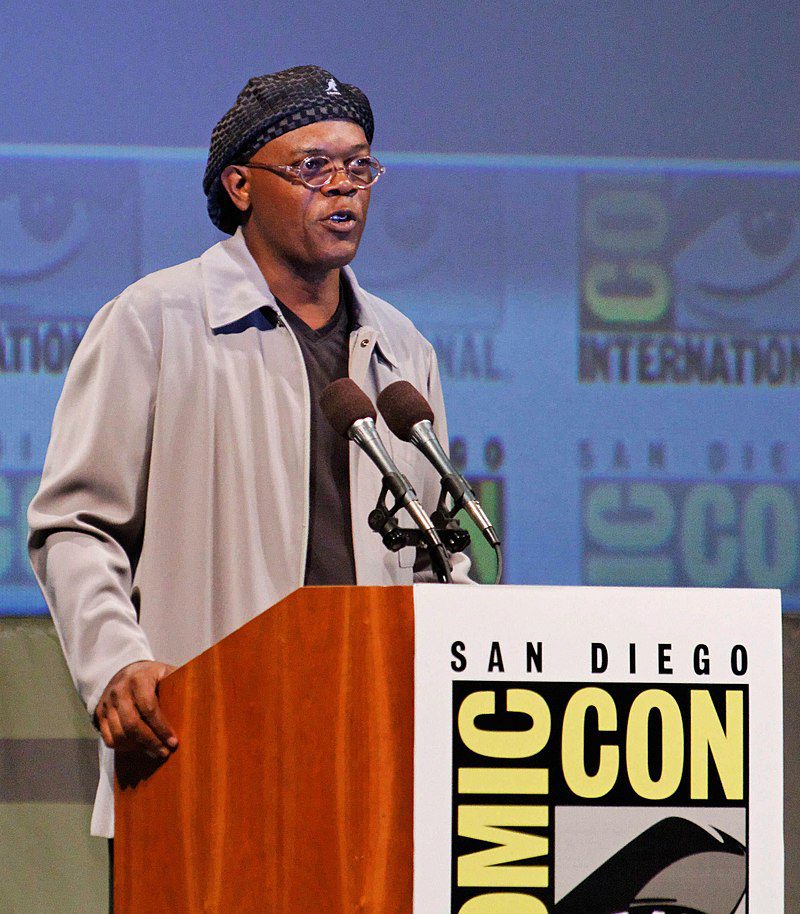 Samuel Leroy Jackson was born in Washington, D.C., on December 21, 1948, the only child of Elizabeth Harriett (née Montgomery) and Roy Henry Jackson. He grew up in Chattanooga, Tennessee. His father lived away from the family in Kansas City, Missouri, and later died of alcoholism. Jackson met him only twice during his life. He was raised by his mother, a factory worker and later a supplies buyer for a mental institution; he was also raised by his maternal grandparents, Edgar and Pearl Montgomery, as well as extended family. According to DNA tests, Jackson partially descends from the Benga people of Gabon, and he became a naturalized citizen of Gabon in 2019. He attended several segregated schools and graduated from Riverside High School in Chattanooga. He played the French horn, piccolo, trumpet, and flute in the school orchestra. He developed a stutter during childhood and learned to "pretend to be other people who didn't stutter". He still uses the word "motherfucker" to get through a speech block. He still has days where he stutters. Initially intent on pursuing a degree in marine biology, he attended Morehouse College in Atlanta, Georgia. After joining a local acting group to earn extra points in a class, he found an interest in acting and switched his major. Before graduating in 1972, he co-founded the Just Us Theatre.
After Martin Luther King Jr.'s assassination in 1968, Jackson attended King's funeral in Atlanta as one of the ushers. He then travelled to Memphis, Tennessee, to join an equal rights protest march. In a 2005 Parade interview, he said, "I was angry about the assassination, but I wasn't shocked by it. I knew that change was going to take something different—not sit-ins, not peaceful coexistence." In 1969, Jackson and several other students held members of the Morehouse College board of trustees (including Martin Luther King Sr.) hostage on the campus, demanding reform in the school's curriculum and governance. The college eventually agreed to change its policy, but Jackson was charged with and eventually convicted of unlawful confinement, a second-degree felony. He was suspended for two years for his criminal record and his actions. He would later return to the college to earn a BA in drama in 1972. While he was suspended, he took a job as a social worker in Los Angeles. He decided to return to Atlanta, where he met with Stokely Carmichael, H. Rap Brown, and others active in the Black Power movement. He began to feel empowered with his involvement in the movement, especially when the group began buying guns. However, before he could become involved with any significant armed confrontations, his mother sent him to Los Angeles after the FBI warned her that he would die within a year if he remained with the group. In a 2018 interview with Vogue, he denied having been a member of the Black Panther Party.
---
Personal life
In 1980, Jackson married actress and producer LaTanya Richardson, whom he met while attending Morehouse College. The couple have a daughter named Zoe (born 1982). In 2009, they started their own charity to help support education. Jackson has said that he watches his own films in cinemas: "Even during my theater years, I wished I could watch the plays I was in—while I was in them! I dig watching myself work." He also enjoys collecting the action figures of the characters he portrays in his films, including Jules Winnfield, Shaft, Mace Windu, and Frozone.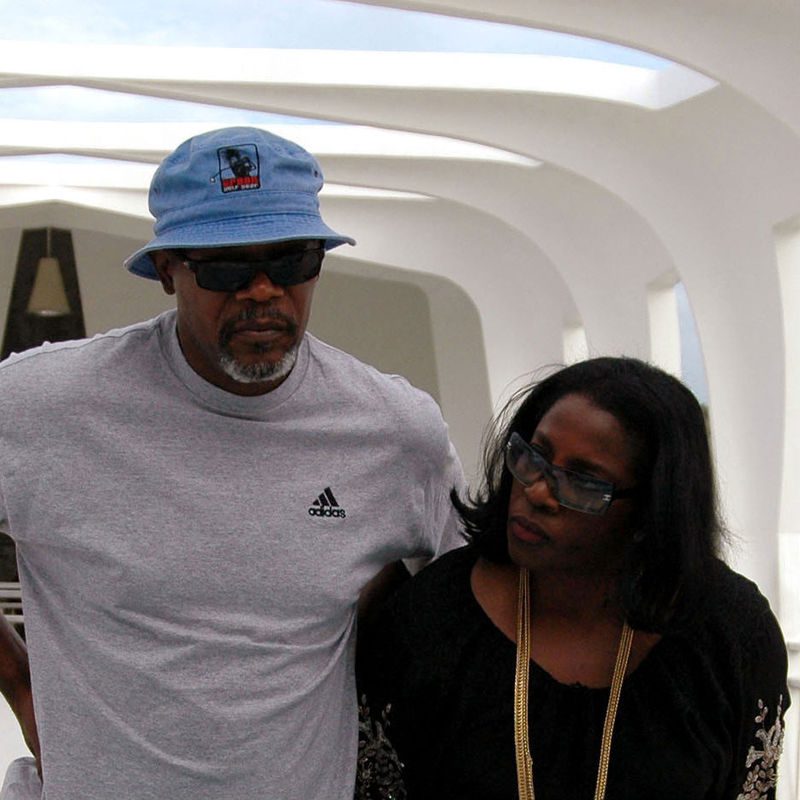 Jackson is bald but enjoys wearing wigs in his films. He said about his decision to shave his head, "I keep ending up on those 'bald is beautiful' lists. It's cool. You know, when I started losing my hair, it was during the era when everybody had lots of hair. All of a sudden, I felt this big hole in the middle of my afro. I couldn't face having a comb over so I had to quickly figure what the haircut for me was." His first bald role was in The Great White Hype. He usually gets to pick his own hairstyles for each character he portrays. He poked fun at his baldness the first time he appeared bald on The Tonight Show, explaining that he had to shave his head for one role, but then kept receiving more and more bald roles and had to keep shaving his head so that wigs could be made for him. He joked that "the only way [he's] gonna have time to grow [his] hair back is if [he's] not working". He is noted for often wearing a Kangol hat in public.
Jackson has a clause in his contracts that allows him to play golf during film shoots. He has played in the Gary Player Invitational charity golf tournament to assist Gary Player in raising funds for children in South Africa. He is a keen basketball fan, supporting the Toronto Raptors and the Harlem Globetrotters.[ He has supported English football team Liverpool FC since appearing in The 51st State, which was shot in Liverpool, and also supports Irish football team Bohemian FC.
Jackson encouraging people to wear masks during the COVID-19 pandemic in August 2020
Jackson campaigned during the 2008 Democratic Primary for Barack Obama in Texarkana, Texas. He said, "Barack Obama represents everything I was told I could be growing up. I am a child of segregation. When I grew up and people told me I could be president, I knew it was a lie. But now we have a representative… the American Dream is a reality. Anyone can grow up to be a president." He also said, "I voted for Barack because he was black. That's why other folks vote for other people—because they look like them." In December 2012, he compared his Django Unchained character, a villainous house slave who sides with his white oppressors, to black conservative Justice Clarence Thomas and said that the character had "the same moral compass as Clarence Thomas does". Following the Supreme Court's decision to overturn Roe v. Wade in June 2022, he again criticized Thomas, referring to him as "Uncle Clarence" and asking how Clarence—who is married to white attorney Ginni Thomas—feels about overturning Loving v Virginia, a Supreme Court ruling which allowed interracial marriages.
In June 2013, Jackson launched a joint campaign with Prizeo in an effort to raise money to fight Alzheimer's disease. As part of the campaign, he recited various fan-written monologues and a popular scene from the AMC series Breaking Bad. In August 2013, he started following a vegan diet for health reasons, explaining that he is "just trying to live forever". He attributed his 40 lb (18 kg) weight loss to the diet. He had largely abandoned the diet by March 2017, but still praised and recommended it. He launched a campaign called "One for the Boys", which teaches men about testicular cancer and urges them to "get themselves checked out".
He was given Gabonese citizenship in 2019 as he descends partially from the country's Benga ethnic group. In 2020, during the COVID-19 pandemic, Jackson encouraged people to wear face masks as part of California's "Your Actions Save Lives" campaign. Along with Dwayne Johnson, he also encouraged those who had recovered from COVID-19 to donate their blood to help others fighting the virus. He additionally appeared on Jimmy Kimmel Live to read a satirical book, Stay the Fuck at Home, which spread awareness of social distancing.
---
Awards and Honors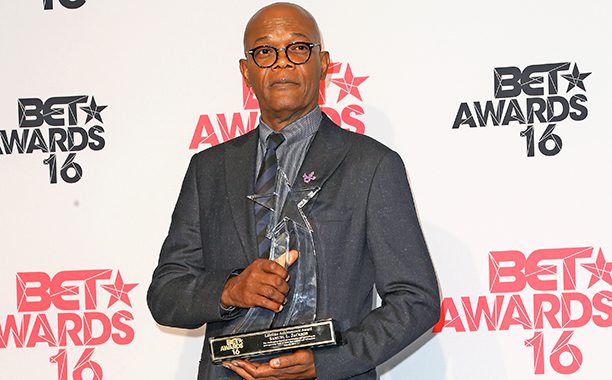 Over his career, Jackson has received various awards for his performances on film. At the 44th Cannes Film Festival he received the Cannes Film Festival Award for Best Actor for his performance in Spike Lee's Jungle Fever (1991). He received the BAFTA Award for Best Actor in a Supporting Role and the Independent Spirit Award for Best Male Lead for his performance in Quentin Tarantino's Pulp Fiction (1994). He also received Academy Award, Golden Globe Award, and Screen Actors Guild Award nominations for the performance as well. At the 48th Berlin International Film Festival, he received Silver Bear for Best Actor for his leading performance in Tarantino's Jackie Brown (1997). In 2021, the Academy of Motion Picture Arts and Sciences named Jackson as one of its Academy Honorary Award recipients as "A cultural icon whose dynamic work has resonated across genres and generations and audiences worldwide." At the 12th Annual Governors Awards, friend and actor Denzel Washington presented Jackson with his Oscar.
---
Filmography
Film
---